Blogger is the most trusted free blog provider in the world with more than millions of users across the globe. It is simple and has huge community support than any other free blog providers.
Well, you may be wondering why SEO optimized blogger templates are very important nowadays. It is because, most of the SEO elements are directly dependent upon your themes like structured data, responsivity, etc.
Blogger has thousands of themes available for free and premium. There are some basic criteria that our website needs to be fulfilled whenever we are going to choose a template.
Common Mistakes of Beginners
Blogger templates are available in various design and Price of course, but most people never care about the SEO section of a template.
Let's talk about SEO elements like breadcrumbs which help us greatly in SEO and rank us on google. Most of the beautiful themes available for blogger doesn't have these features.
In order to add these functions, one should be thorough with the HTML and blogger settings, but WordPress has lots of plugins so that a newbie can easily understand the process but in blogger that's not the case.
We have to depend upon HTML code to implement each and every element.
What is the Solution?
Select a template with all the features like breadcrumbs, Adsense friendly and Better loading speed. So here are the basic requirements for an SEO Optimized Blogger Template.
Structured Data
Fast Loading Speed
Adsense Friendly (If you are planning to monetize your Blog)
Addon Features like Author Box etc.
Structured Data
Technically structured data is an organized data in a website which helps crawlers to understands the content of a website. Structured data can be tested with Google's official Structured data testing tool.
So before selecting any theme scan for structured data present in the theme. Some structured data's are
Blog Post
Breadcrumb
Review
Fast Loading Speed
Speed is also an important factor for any website. Our visitors should not be annoyed with the loading speed of our website which can gradually reduce visitors and increase the bounce rate and which in turn affects our SEO.
There are different tools available for checking the website speed like Google Page Speed Insight. Here are some of the tools. You can also read an article about blogger magazine templates.
Pingdom Tools etc.
Adsense Friendly
Monetization of our blog through Adsense, Media Net, etc is important for earnings, but in order to place ads, our theme should be Adsense friendly too. The theme can be manually edited to accommodate infinite ad but for a perfect newbie, this might be impossible.
Addon Features
There are some features like TOC (table of contents) which helps to generate jump links and anchor links in the search results. You can follow this detailed guide to set up an automatic table of contents in blogger.
There some themes which have so many features like author box, button, table, boxes and other elements which can be very useful to make your blog professional.
Rich snippets are also generated from tables and numbered items, but it depends on Google to decide which to select.
Top SEO Optimized Blogger Templates
Based on the above criteria I will show you some of the top SEO Optimized Blogger Templates that can be used to improve your ranking and improve your Adsense earnings.
There is no use in listing lots of themes, So I selected the most appropriate theme based on my experience.
#1. One Press Blogger Template

One Press is a professional Blogger template for magazine blogs. This theme is very easy for customization which doesn't need much to go through codes. Fast loading and all structured data are prebuilt with this theme.
Features of One Press
100% Responsive Design.
Auto RTL Version.
Fixed Menu.
Automatic Mobile Menu.
Header Ads.
Featured Posts.
Post Widget 1 and 2.
#2. SEO Impact Blogger Template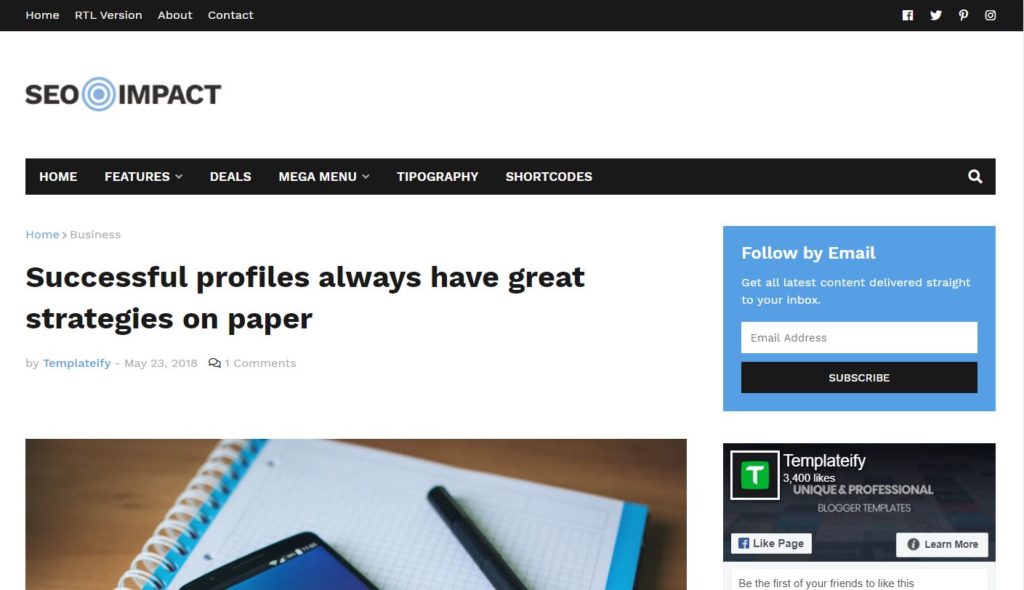 SEO Impact Blogger template is another magazine-styled template with all types of home widgets like the featured post and other add on widgets. It is very fast and rich in structured data and customization is very simple.
Auto RTL Version
Top Bar Social Icons.
Multi-Level/DropDown Menu.
Mega Menu by (Recent or Label).
Automatic Mobile Menu
Fast Loaded.
#3. Magify Blogger Template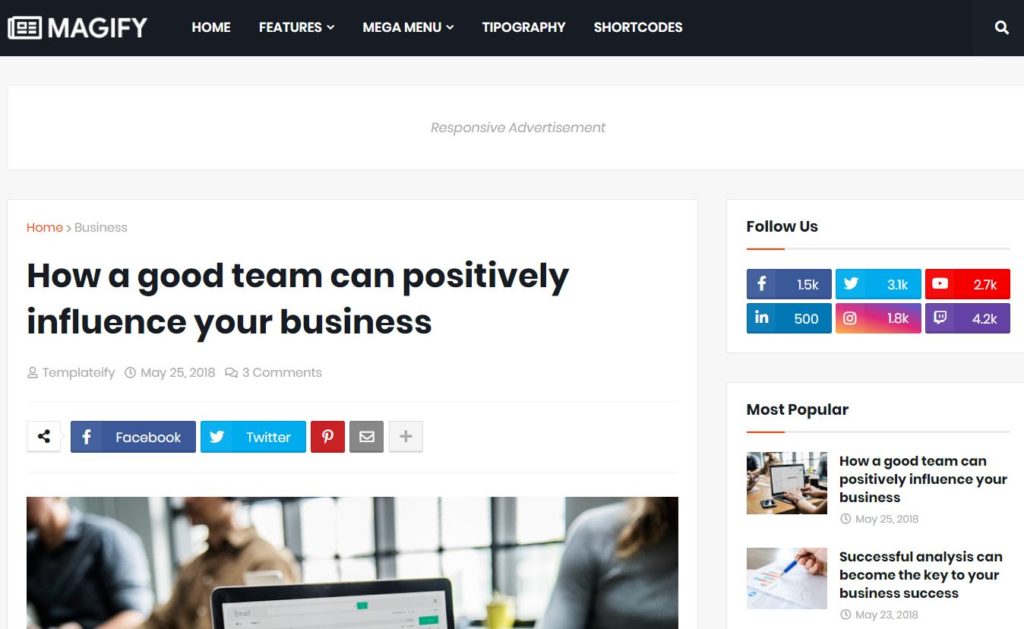 Magify is best suitable for News or magazine-style websites. Fast Loading and Adsense Friendly Design make it best suitable for your website. Just like other themes it has all necessary ad slots and widgets.
100% Responsive Design.
Auto RTL Version.
Fixed Menu.
Automatic Mobile Menu.
Header Ads.
Featured Posts.
Post Share Buttons.
#4. SEO Site Blogger Template [Premium]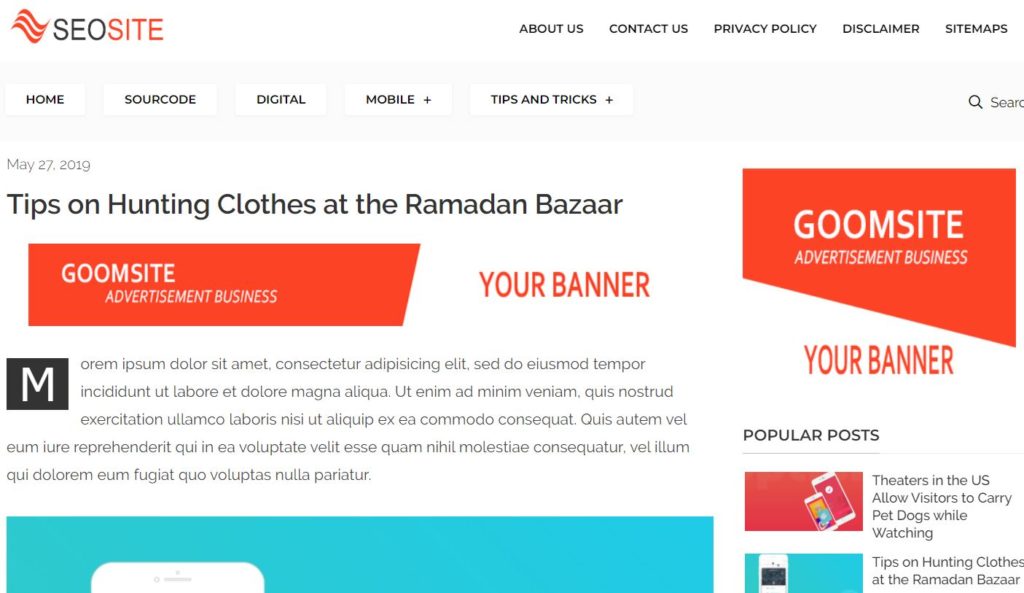 SEO Site is a clean Blogger template with material design and light theme interface. It's a two-column theme with a grid layout and more premium features.
Features of SEO Site
Responsive Layout
Font Awesome Premium
Valid Structured Data
Custom Ad Slots
Custom comment count
Adsense Optimised
#5. SEO Nabil Blogger Template [Premium]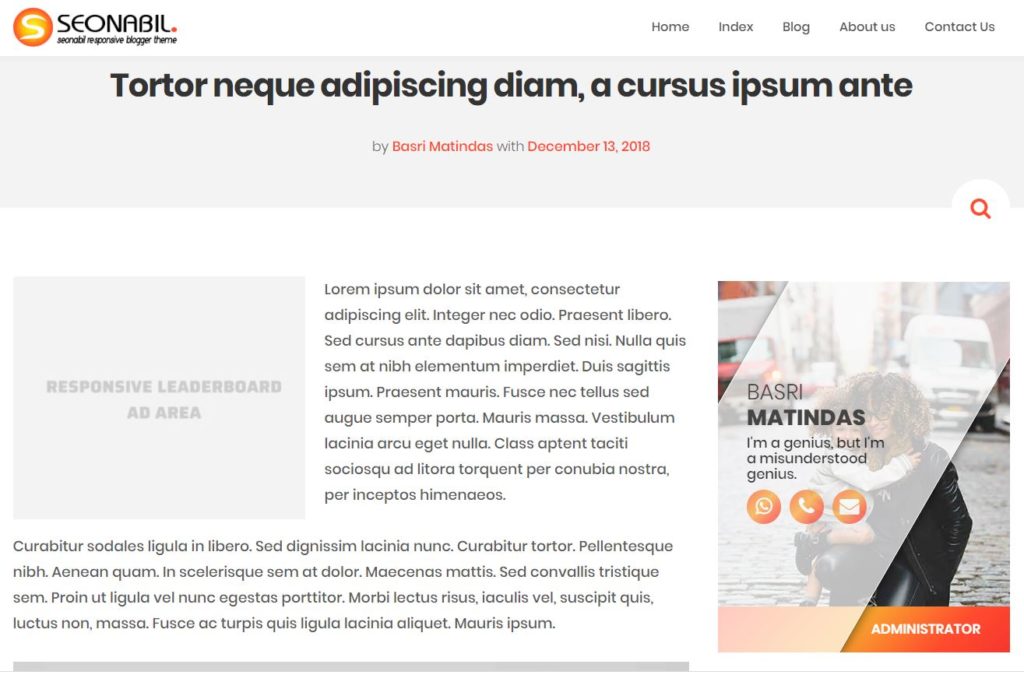 SEO Nabil is a clean blogger template that I have personally used on my blog which is very fast and rich with all structured data. It is best suited for your technology/niche blog with a grid post layout.
Features of SEO Nabil
Responsive 
SEO Friendly
Ads Ready
Fast Loading
Sidebar Sticky
Breadcrumbs (Hidden)
AMP Blogger Template
AMP Project is initiated with an aim to provide lightning-fast web pages for mobile user's as more and more people are using mobile phones rather than computers.
We have plenty of plugins in WordPress for making our page AMP-compatible but in blogger, we have to select a pre-supported template to enjoy this feature.
AMP has some problems in both WordPress and blogger and we hope that it will be fixed soon. You can view this article to know more about amp blogger templates.
Conclusion
I hope that you liked this article on SEO Optimized Blogger Templates. If you need any further help regarding the blogger template, feel free to contact us.
Comment your valuable suggestions and improvements we are happy to hear from you. Don't forget to share this article if you find it worth sharing with your friends.